Greenhouse Gas
Background
Shipping is considered one of the most efficient modes of transport in terms of CO2 emissions. However, it also represents a substantial and growing source of the overall greenhouse gas (GHG) emissions. Although CO2 emissions from the shipping industry have been accounted for almost 3% of the global GHG values, without any further action, it is expected this to rise to 5% by 2050.
More recently, the 3rd IMO GHG Study 2014 estimates that international shipping emitted 796 million tonnes of CO2 in 2012 representing 2.2% of the global values. These figures have been lowered from 885 million tonnes in 2007 representing 2.8% of the global values. However, the business as usual scenarios forecast a growth of between 50 and 250% in 2050, depending on different future social-economic, energy efficiency and growth demand (GDP) developments.
Global action
Being an International business, a global approach is essential to reduce GHG emissions from the maritime transport sector. The International Maritime Organization (IMO) is considered the appropriate forum to regulate GHG emissions from international shipping. The European Union and its Member States, together with the European Commission and EMSA have been for quite some time actively engaged in the Organization's initiatives. A stepped approach will start with a data collection system that would serve the basis of any further energy efficiency measure to be considered for international shipping. So far, a new Chapter in MARPOL Annex VI "Regulations on Energy Efficiency for Ships" entered into force on 1 January 2013 introduced mandatory technical and operational energy-efficiency requirements such as the Energy Efficiency Design Index (EEDI) for some new ship types and the Ship Energy Efficiency Management Plan (SEEMP) for all ships.
EU action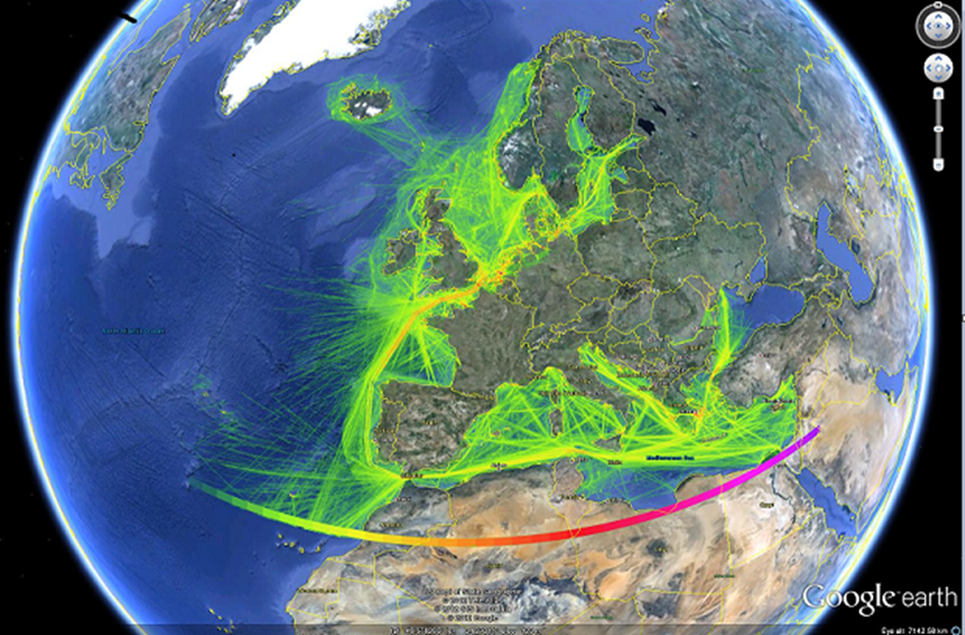 The Commission's 2011 White Paper on transport suggests that the EU's CO2 emissions from maritime transport should be cut by at least 40% of 2005 levels by 2050, and if feasible by 50%. However, international shipping is not covered by the EU's current emissions reduction target. In June 2013 the European Commission set out a phased strategy for progressively integrating maritime emissions into the EU's policy for reducing its domestic greenhouse gas emissions. The strategy consists of three consecutive steps: Monitoring, reporting and verification (MRV) of CO2 emissions from large ships using EU ports, Greenhouse gas reduction targets for the maritime transport sector and further measures, including MBMs, in the medium to long term.
To this end, and as a first step, the EU MRV Regulation (Regulation 2015/757 of the European Parliament and of the Council) on the monitoring, reporting and verification of carbon dioxide emissions from maritime transport and amending Directive 2009/16/EC has been adopted on 29 April 2015. It applies to all ships above 5000 GT in respect to CO2 emissions released in voyages to, from and between ports under the jurisdiction of EU Member States from the 1st January 2018.
EMSA's role
Under the remit of its founding Regulation, as part of its ancillary tasks, EMSA has been providing technical assistance to the Commission in relation to GHG emissions from ships, in particular in following up ongoing international developments. More recently, this mandate was extended to the Agency's core tasks, namely by also providing assistance to the Member States, in result of the EU MRV Regulation adoption. In addition, EMSA has also been cooperating with other relevant research institutes on these matters.
More Info