SAFEMED IV 2nd Steering Committee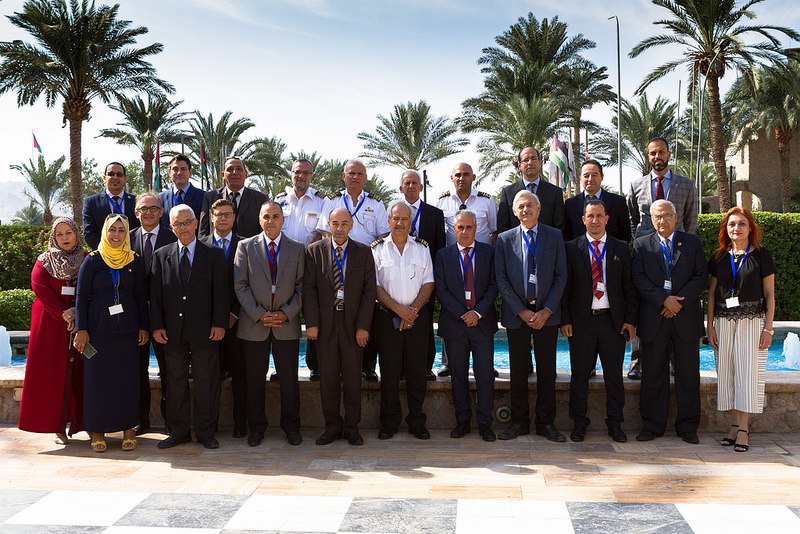 On 10-11 October 2018, the Jordan Maritime Commission (JMC) hosted the 2nd Steering Committee of the EU funded project SAFEMED IV in Aqaba, Jordan.
The meeting was attended by various participants from the project's Beneficiary Countries, namely from Algeria, Egypt, Jordan, Libya, Lebanon, Palestine and Tunisia. In addition, representatives from the Secretariat of the Mediterranean Memorandum of Understanding on PSC (MED MoU), the IMO/REMPEC, CETMO and the UfM participated in the Meeting as observers. The World Maritime University also assisted to the opening ceremony and delivered a short introductory speech.
EMSA presented the activities conducted from October 2017 to October 2018 with a specific focus on the actions performed in each of the technical components: Flag State, Port State, VTMIS, Protection of marine environment, Human element in maritime safety and Maritime security, Security, MCGFF, Bilateral Activities and Communication. New activities which include Exploratory Missions in all beneficiary countries, the development of the new IT platform for PSC Officers in the Med MoU Region "THETIS-Med", studies on Port Reception Facilities, etc.
All beneficiary countries also presented a set of priorities and expectations, both at regional and bilateral level, for the timeframe 2019-2021. Many of these activities were included in the revised Action Plan.
The 2nd Steering Committee was successfully organised. Such meeting is paramount to ensure a high level of cooperation and coordination between the project's beneficiary countries, EMSA and all other entities involved in the Mediterranean basin. At the end of the Steering Committee, the Action Plan for 2019 was adopted.