Greenhouse Gas
Greenhouse gases (GHGs) contribute to climate change, representing a threat to the marine environment and human health. They produce changes in temperature, increasing CO2 levels, and decreasing pH in waters and soils, changes in nutrients and dissolved oxygen due to changes in circulation and stratification, as well as extreme weather events and sea level rise.
Ships calling at EU and European Economic Area ports emitted around 144 million tonnes of CO2 in 2018 and in 2019. This represents 18% of the global annual CO2 emissions from international shipping.
The ships that are considered in this analysis are those above 5 000 GT (gross tonnage) and engaged in commercial activities in the EU, which are responsible for approximately 90% of the CO2 emissions.
Of the total CO2 emissions, around 40% arise from voyages between ports of EU Member States and while the ships are at berth. 60% are produced during voyages into and out of the EU.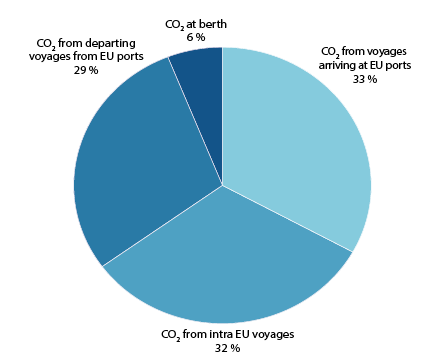 Container ships account for around one third of shipping's CO2 emissions, which are equally distributed between intra-EU, incoming and outgoing voyages.
While bulk carriers account for 13% of CO2 emissions, these ships represent one third of the total number of ships considered.
Taken together, passenger and roll-on, roll-off passenger (Ro-pax) ships also account for a substantial share of the total CO2 emissions, which are predominantly reported under intra-EU voyage and at EU port categories. This is due to their trading pattern of fixed and regularly served routes within the EU.
Figures from 2018 and 2019 are very similar and consistent.
EMSA's role: GHG emissions
The EU MRV Regulation has set standards on the monitoring, reporting and verification of carbon dioxide emissions from maritime transport since 2018. The Regulation applies to large ships (above 5,000 GT) and their CO2 emissions released in on voyages to, from and between ports in the EU. This has created EU-wide rules for the monitoring, reporting and verification of CO2 emissions together with additional information on maritime transport related to its fuel consumption.
EMSA supports the MRV Regulation with THETIS-MRV, the system developed and hosted at the Agency to support the monitoring and reporting of verified data on CO2 emissions. This data is published by the European Commission in a series of annual reports, to inform the public and to allow for an assessment of the CO2 emissions and the energy efficiency of maritime transport.
The continuous implementation of the MRV system is expected to lead to emission reductions of up to 2% compared with a business-as-usual scenario.
Find out more about EMSA's role:
More Info