CleanSeaNet Service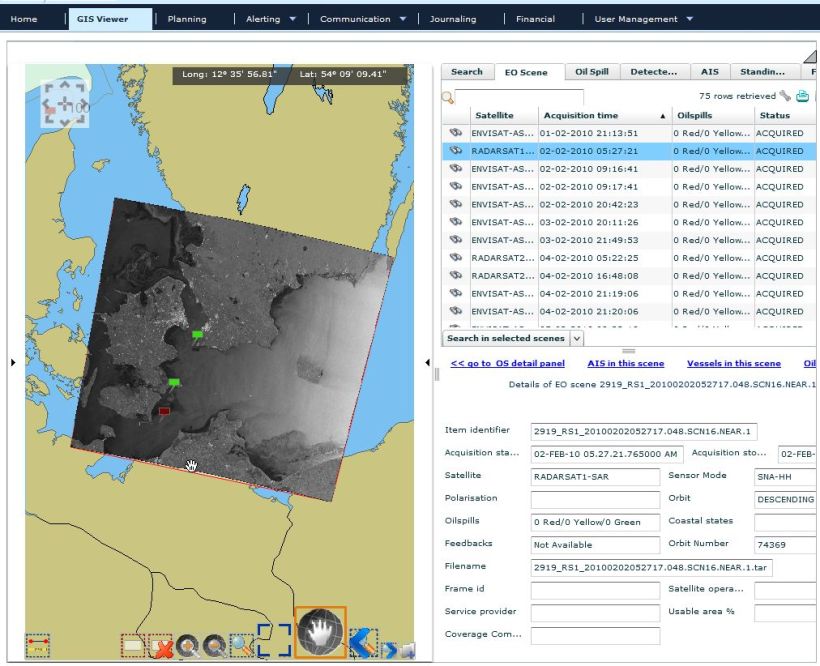 Through CleanSeaNet, EMSA provides a state-of-the-art oil spill monitoring service, which can be integrated into national oil spill response chains. CleanSeaNet supplements existing surveillance systems at national or regional level, strengthens member state responses to illegal discharges, and supports response operations to accidental spills.
The service is based on radar images obtained from synthetic aperture radar (SAR) satellites. Coastal states define their service coverage requirements. In cooperation with the users, EMSA plans and orders satellite images to meet these requirements. Accordingly satellite data are acquired via a network of receiving stations.
Operators assess the images, together with supporting meteorological, oceanographic and ancillary information (AIS, vessel detection) where available, to identify possible pollutions, to determine the likelihood of the presence of oil on the sea surface and to assist in identifying the source of the pollution. If a potential spill is detected, it is of utmost importance that coastal state administrations are immediately alerted by phone and email with the aim of increasing the likelihood of catching a polluter red-handed.
As time is critical for confirming a possible spill and catching polluters in the act, the shortest possible delay between satellite detection and alert is essential for a rapid response by coastal states. CleanSeaNet is a near real time service. Detection results are reported to the affected coastal state approximately 30 minutes after satellite image acquisition (the exact time varies according to the size of the image).
In addition to the regular monitoring service, the Agency also provides assistance to member states during emergency situations. This is usually requested by member states through the Monitoring and Information Centre of the European Commission in Brussels, which coordinates assistance to member states during emergencies. In relation to CleanSeaNet, assistance usually takes the form of additional services over an area where an incident or accident has occurred, in order to monitor the extent of a spill and changes over time (e.g. direction of drift).
SAR images, results of oil spill and vessel detection analysis, and relevant auxiliary data (wind and swell detection, vessel traffic information, nautical charts, meteorological, oceanographic information and oil drift models) are made available to Coastal states through the web based and user tailored CleanSeaNet user portal. All data are available in the Agency database for further analysis and production of statistics.
Web browser
CleanSeaNet quality monitoring and user support form part of the EMSA's day-to-day activities to keep up a high level of service performance. This, together with end user training provided by the Agency, is of fundamental importance to ensure the efficient use and integration of the CleanSeaNet service into national operations.
As CleanSeaNet is linked to national and regional response chains, interaction with user communities in the coastal states is important for ensuring the best use of the service and identifying improvements to be made. To that effect CleanSeaNet User Group meetings are organised regularly by EMSA. These events are an opportunity to foster better communication with authorities using CleanSeaNet in the coastal states and get feedback on the user requirements, and on weaknesses and strengths of the service from their perspective.
Operational results
The first three years of operations have demonstrated that CleanSeaNet is efficient for the detection of oil spills. During the period 16 April 2007 – 31 December 2009, 5816 images have been successfully delivered to the 26 coastal states using the service. Within these images 7193 possible spills were detected by CleanSeaNet. 1997 were verified on site by the member states and 542 were confirmed as being mineral oil. The overall rate of confirmation is better than 50% if the spill is checked by aircraft no later than 3 hours after satellite acquisition.
Unfortunately, despite evidence supplied by the CleanSeaNet service, there is still a relatively low level of enforcement through follow-up actions at national level and limited feedback on the measures taken by national authorities more generally. Nevertheless, it should be regarded as a very positive evolution that more and more member states use CleanSeaNet detections to trigger inspections in port of suspect vessels. A number of polluters have been detained or fined on the basis of evidence collected during such inspections.
It is an objective outlined in the five year strategy of the Agency, as approved by the European member states, to support the effectiveness of the enforcement chain of Directive/2005/35/EC, as amended. Some possible actions have been identified such as extending the use of CleanSeaNet to other authorities who might have a role in following up the polluters (Port State Control, water police, coast guards, etc). In parallel, linking European information systems used by authorities in the member states (for example, MyOcean monitoring and forecasting capabilities) is essential in order to achieve this objective. In coming years, CleanSeaNet will be integrated as the oil pollution detection and monitoring component of the Agency's Integrated Maritime Data Environment (IMDatE) platform.