FIRESAFE
The IMO Correspondence Group on Casualty Analysis (FSI 21/5) reviewed a number of fires on vehicle decks of either ro-ro passenger or ro-ro cargo ships which took place in the period from 1994 to 2011. Their report of March 2013 noted:
"61 There have been a number of significant fire incidents on ro-ro passenger vehicle decks since 1994 and there is no sign of these diminishing. Since 2002 there has been a very serious incident every other year, resulting in six constructive total losses.
62 A significant number of the incidents have occurred as a result of electrical fires, particularly relating to refrigerated trailers, but also in some cases from the ship's own equipment.
63 Many of the findings of the casualty investigation reports studied reiterate well-known problems, e.g. the need to deploy drencher systems early in the fire, problems associated with water accumulating on the vehicle decks, structural fire integrity and fire containment."
This report was brought to the attention of Maritime Safety Committee (MSC) at its 92nd session and the relevant recommendations were forwarded to the Ship Design and Construction (SDC) 1 and the Ship Systems and Equipment (SSE) 1 sub-committees. However, in the absence of any intervention, SDC decided to invite "interested Member Governments and international organizations to submit proposals for new outputs to the Committee".
EMSA has further analysed this type of accident using the in-house EMCIP database (European Marine Casualty Information Platform which is managed by EMSA), as well as the MARINFO database which is populated with data from four commercial providers. This analysis has shown that the number of fires on ro-ro decks remains at high levels, including very serious accidents of which the NORMAN ATLANTIC and the SORRENTO are the most recent.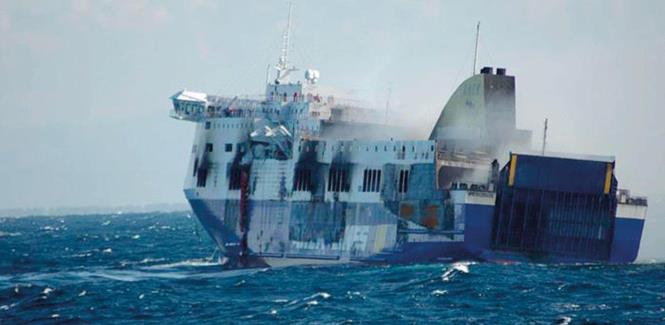 Fire - Norman Atlantic
Statistics on this issue present a compelling need to consider whether any practicable solutions could be found to reduce the risk posed by fires on ro-ro decks.
EMSA initiative
In September 2015, EMSA held a workshop on fires on ro-ro decks for maritime administrations and accident investigation bodies, together with relevant speakers from industry. Following this workshop, a Group of Experts (GoE) was formed to discuss and further analyse this issue. One of the first tasks of the group was to evaluate and score the different risk areas that were identified in the casualty analysis correspondence group of the IMO FSI sub-committee which led to the development of document FSI 21/5.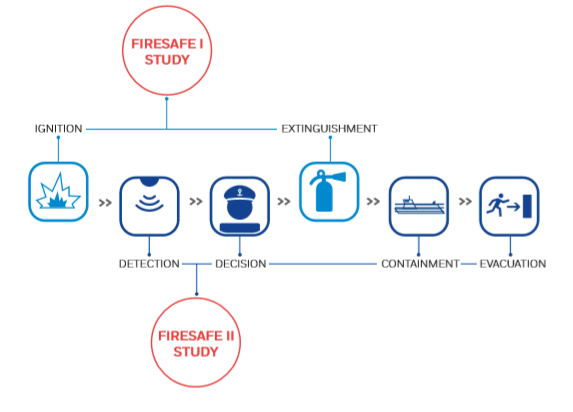 The results of this exercise showed that the experts consider that electrical fire as ignition risk and fire extinguishing failure are the greatest risk contributors. Consequently, it was proposed that EMSA would initiate a study in order to further investigate these two risks and potential risk control options.
EMSA then commissioned the so-called FIRESAFE study which was undertaken by the SP Technical Research Institute of Sweden, supported by Bureau Veritas and Stena Line, and was finalised in December 2016
More Info