Capacity Building - EMSA Academy
The EMSA Academy aims at creating a structured and modular approach for the establishment of learning activities, with a focus on the development and implementation of common core curricula for selected job profiles (e.g. ship inspector, auditor, investigator, etc.) falling under the remit of the Agency.
The four stages of the EMSA Academy cycle for learning hinge on a gap-solution model that begins with the identification of the gap and its root cause (Training Need Assessment), with the proposition and preparation of a corrective measure (Curriculum development and design), with the test and validation of the corrective measure (Curriculum delivery) and finally with the assessment of the corrective measure's effectiveness (Evaluation and review).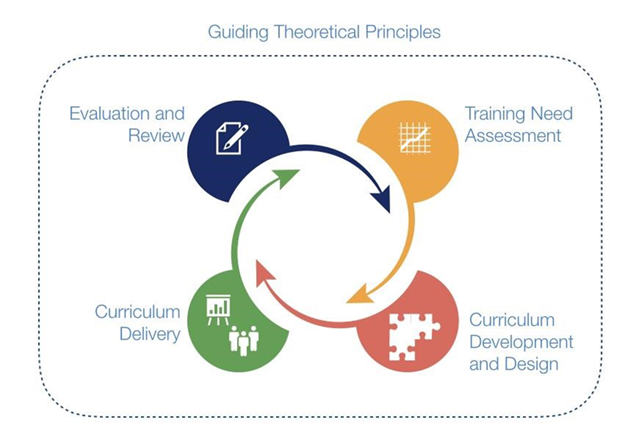 The EMSA Academy has been established in order to provide learning services outside formal education to all beneficiary organisations and their individuals. Beneficiary organisations include the EU Member States and EEA countries, the European neighbouring countries, the EU candidate and potential candidate countries, EU and non-EU States members of the Paris MoU and any other third country for which the Agency has been requested to support.
The EMSA Academy is also providing capacity building services to other EU Agencies, such as FRONTEX and EFCA, within the context of the interagency cooperation.
The EMSA Academy is responsible for the following activities:
The development, implementation and management of professional development schemes, including the development of common core curricula, instructions, guidance, procedures, syllabi, training materials and contents, assessment methodologies and criteria per functions
The development, implementation and management of online courses delivered on a part-time basis;
Ad hoc trainings on specific topics on EU/International maritime legislation ;
Ad hoc training on EMSA's operational maritime applications and tools;
The management of the Maritime Knowledge Centre 2020 services (MaKCs 2020) based on Moodle.
The management of a Virtual Reality Environment for Ship Inspection (VRESI), a state-of-art technology to build a realistic, immersive and configurable space where trainees are able to perform ship inspections in a safe and controlled environment.
RuleCheck: a web based Repository of Maritime Legislation provides to users IMO Conventions, Codes, Resolutions and Circulars, ILO Conventions and Guidelines, Maritime related EU Regulations and Directives and the Paris MoU Manual and Instructions
As part of the projects for technical assistance funded by the European Commission, EMSA offers cooperation and assistance in the fields of maritime safety and security, prevention of pollution from ships and marine environmental issues to: