BCSEA Tutoring Project on Port State Control, Turkmenbashi, Turkmenistan
On 2 – 6 July 2018 a Tutoring Project on Port State Control (PSC) was held in Turkmenbashi, Turkmenistan, within the technical assistance which EMSA provides to European Neighbourhood Policy countries under the Black and Caspian Sea Regions Project. The event was a five-day training course divided into theoretical and practical parts under the skilful tutorship of an EMSA speaker and two EU Member States' Port State Control officers, one from the Latvian Maritime Administration and the other from the Italian Coast Guard.
They shared valuable knowledge on PSC in accordance with the international conventions, IMO procedures and EU legislation followed by giving the participants practical experience through training inspections on ships in the Port of Turkmenbashi. Four different inspections have been simulated on board, followed by de-briefing activities, sharing lessons learned and best practices.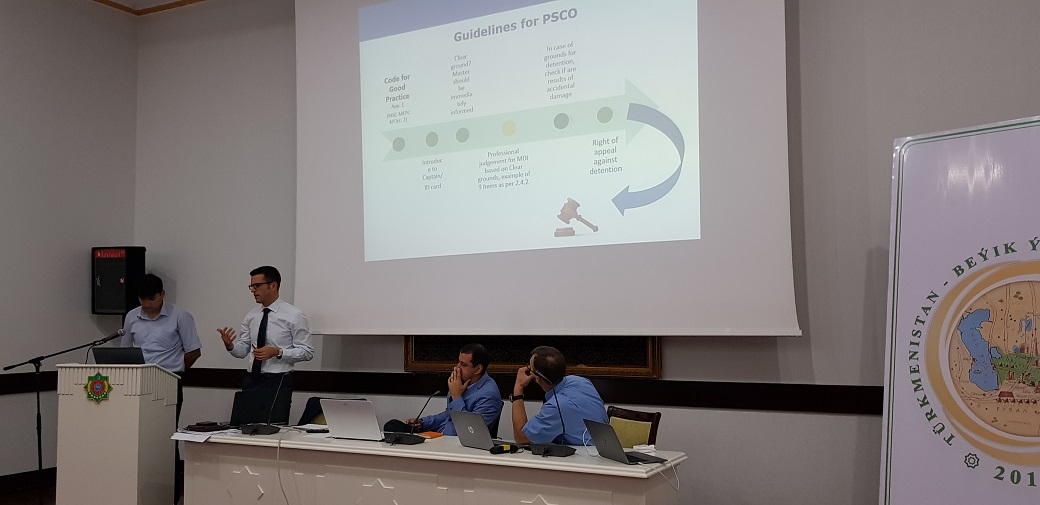 Turkmenbashi, Turkmenistan

Date

02.07.2018
06.07.2018
Contacts
Training and Cooperation
Department B - Safety and Standards
Praça Europa 4
1249-206 Lisbon, Portugal
Tel: +351 21 1214 393
Fax: +351 21 1209 261

This email address is being protected from spambots. You need JavaScript enabled to view it.