Accident Investigation - Annual Overview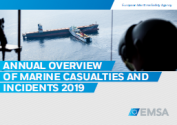 The Agency started publishing an annual overview of marine casualties and incidents in 2014.
The publication presents casualty statistics on ships flying a flag of an EU Member State, accidents in territorial sea and internal waters of Member States or wherever there are interests of Member States involved, as reported in EMCIP.
The figures presented aim to provide an overview of the safety of maritime transport related to European interests. Its value as an analysis grows each year, as the data in EMCIP increases at the rate of approx. 4000 incidents per year.
DISCLAIMER
The marine casualty and incidents data presented is strictly for information purposes only. The statistics presented are from the data stored in the European Marine Casualty Information Platform (EMCIP) by the accident investigation bodies of the EU Member States, Iceland and Norway.
While every care has been taken in preparing the figures to avoid errors, the Agency makes no warranty as to the accuracy, completeness or currency of the statistics on the website.
The Agency shall not be liable for any kind of damages or other claims or demands incurred as a result of incorrect, insufficient or invalid data, or arising out of or in connection with the use, copying or display of the content, to the extent permitted by European and national laws.