EU Accident Investigation Bodies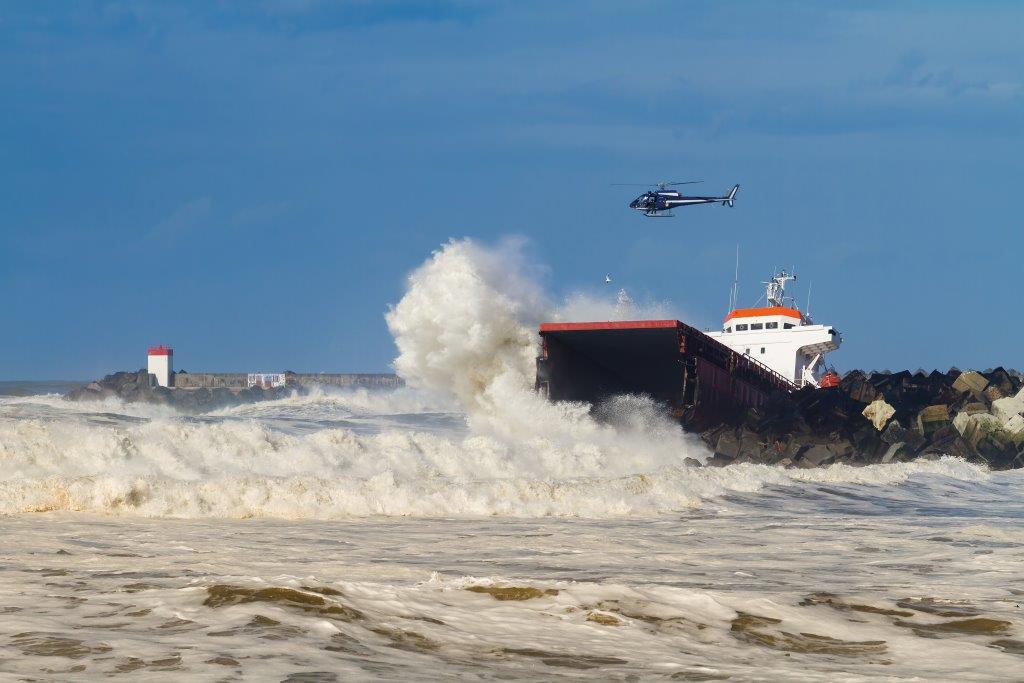 Picture: Loss of control, grounding and complete loss of cargo ship LUNO on the breakwater of the outer harbour of Bayonne (France) on 5. February 2014
Each Member State should have an impartial permanent investigative body competent in matters relating to marine casualties and incidents. (Art.8.1 of Directive 2009/18/EC).
Other national authorities might be involved or interested in the domain of marine casualties. The complete list, as provided by the Member States, is available in the EMCIP Portal and updated by each relevant organization.
Austria
Federal Ministry for Climate Action, Environment, Energy, Mobility, Innovation and Technology
Federal Safety Investigation Authority
Radetskystrasse 2
A-1030 Wien
Tel: +43 171162659230


Belgium
Federal Bureau for the Investigation of Maritime Accidents
Vooruitgangstraat 56
B-1210 Brussels
Belgium
Tel: +32 2 277 4343
secretariat@febima.fgov.be
http://www.mobilit.fgov.be
Bulgaria
Directorate for Aircraft, Maritime and Railway Accident Investigation
9 Dyakon Ignatiy Street
1000 Sofia
Bulgaria
Tel: +359 2 940 9334
Fax: +359 2 940 9361
http://www.mtitc.government.bg

Cyprus
Marine Accident and Incident Investigation Committee
Address: Spyrou Kyprianou 1, Iakovou Building, 2nd floor, 4001 Limassol, Cyprus
PO Box : 70764, 3802 Limassol, Cyprus
Tel.
+357-25 823735
+357 25 823717 (Cleanthis Orphanos)
+357-25 823730 (Maria Philippou)
E-mail addresses:
Website: http://www.maic.gov.cy
Croatia
Air, Maritime and Railway Traffic Accidents Investigation Agency
Lonjicka 2
10000 Zagreb
Tel: +385 1 8886 830
Fax: +385 1 8886 831
maritime.safety@ain.hr
http://www.ain.hr
Czech
Ministry of Transport, Czech Maritime Administration Navigation Department
Nábř. L. Svobody 12/1222
110 15 Praha 1
Tel: +420 225 131 343

Denmark
Danish Maritime Accident Investigation Board
Carl Jacobsens Vej 29
DK-2500 Valby
Denmark
Tel: +45 91 37 63 00
Danish Maritime Authority
38 C, Vermundsgade
DK-2100 Copenhagen
Denmark
Tel: +45 3917 4400
Fax: +45 3917 4401

Estonia
Estonian Safety Investigation Bureau
Harju 11
15072 TALLINN
Estonia
Tel: +372 639 7684
Fax: +372 631 3660
Marine Casualties Investigation and Maritime Safety Department
Lume 9
10416 Tallinn
Estonia
Tel: +372 6205 704
Fax: +372 6205 706
Finland
Safety Investigation Authority
Ratapihantie 9,
00520 Helsinki
Finland
Tel: +358 2956 66870
Fax: +358 9 8764375
France
Marine Accident Investigation Office
Tour Pascal B - Antenne Voltaire
92055 LA DEFENSE CEDEX
France
Tel: +33 1 40 81 38 24
Fax: +33 1 40 81 38 42
bea-mer@developpement-durable.gouv.fr
http://www.bea-mer.developpement-durable.gouv.fr
Germany
Federal Bureau of Maritime Casualty Investigation
Bernhard Nocht-Strasse 78
20359 Hamburg
Germany
Tel: +49 40 3190 8311
Fax: +49 40 3190 8340

Greece
Hellenic Bureau for Marine Casualties Investigation (HBMCI)
150 Grigoriou Lambraki Street, 5th floor
Piraeus, 18518
Greece
Tel: +30 210 4191307
Fax: +30 210 4191269

Hungary
Transport Safety Bureau of Hungary
Koer utca 2/A
1103 Budapest
Hungary
Tel: +36 1 294 5529
Fax: +36 1 432 6241

Iceland
Icelandic Transportation Safety Board (ITSB)
Flugvallarvegur 7
101 Reykjavik
Iceland
Tel: +354 511 6500
Fax: +354 551 6501
Ireland
Marine Casualty Investigation Board
Leeson Lane,
DN 2 Dublin
Ireland
Tel: +353-1-6783484/5/6
Fax: +353-1- 6783493
Italy
Marine Casualty Investigation Body
Viale dell'Arte, 16
00144 Roma
Italy
Tel: +39 06 45489209
Fax: +39 06 96519919
Latvia
Transport Accident and Incident Investigation Bureau
58 Brivibas Street
LV-1011 Riga
Latvia
Tel: +371 67288140
Fax: +371 67283339
Lithuania
Transport Accident and Incident Investigation Division
Ministry of Justice
J. Janonio str. 24, room 325
LT-92251 Klaipėda
Lithuania
Tel: +370 686 74879

Luxembourg
Administration des Enquêtes Techniques Aviation civile, Maritime, Fluvial et Chemin de fer
B.P 1388
L-1013 Luxembourg (city)
Luxembourg
Tel: +352 24 78 44 17
Fax: +352 26 47 89 75
http://www.mt.public.lu/transports/AET
Malta
Marine Safety Investigation Unit
Blk H (Ent B)
Antonio Maurizio Valperga Street
Floriana FRN 1710
Malta
Tel: +356 22921300
http://mtip.gov.mt/en/Pages/MSIU/Marine-Safety-Investigation-Unit.aspx

Netherlands
Dutch Safety Board
P.O. Box 95404
2509 CK The Hague
The Netherlands
Tel: +31 70-3337000
scheepvaart@onderzoeksraad.nl
http://www.onderzoeksraad.nl/en
Netherlands Shipping Inspectorate Westelijke Parallelweg 4
3331 EW Zwijndrecht
The Netherlands
Tel: +31 88 489 0000
Fax: +31 10 202 3520
port.statecontrole@ilent.nl
https://www.ilent.nl
Norway
Accident Investigation Board Norway
Sophie Radichsvei 17
NO-2003 Lillestrom
Norway
Tel: +47 63 89 63 00
Fax: +47 63 89 63 01
marine@aibn.no
http://www.aibn.no
Norwegian Maritime Directorate
PO Box 2222
N-5509 Haugesund Haugesund
Norway
Tel: +47 52745000
Fax: +47 52745001
postmottak@sjofartsdir.no
http://www.sjofartsdir.no

Poland
State Marine Accident Investigation Commission (PKBWM)
Stefana Batorego 4, Square
70-207 Szczecin
Poland
Tel: +48 91 44 03 286
www.pkbwm.gov.pl

Portugal
Maritime Accident Investigation and Aeronautical Meteorology Authority Office (GAMA)
Rua C do aeroporto 1749-077
Lisboa, Portugal
Tel: +351 218 447 069
www.gama.mm.gov.pt
gama@gama.mm.gov.pt

Romania
Marine Accidents Investigation Department
38, Dinicu Golescu Blvd, Sector 1,
010873 Bucharest
Romania
Tel: + 40 750 032 154
Fax: + 40 21 311 12 20
http://dgiattn@mt.ro
Slovakia
Aviation and Maritime Investigation Authority - AMIA
Ministry of Transport and Construction of the Slovak Republic
Namestie slobody 6
P.O.BOX 100
810 05 Bratislava
Slovakia
Tel: +421 2 594 94468
Fax: +421 2 5273 1442
vysetrovanie@mindop.sk
http://www.mindop.sk
Slovenia
Ministry of Infrastructure
Langusova 4
1535 Ljubljana
Slovenija
Tel: +386 1 478 8000 / +386 41 757 624
Fax: +386 1 478 82 53
mzi.maiis@gov.si
janez.pozar@gov.si
http://www.mzi.gov.si/
Spain
Comisión Permanente de Investigación de Accidentes e Incidentes Marítimos
Paseo de la Castellana 67
28071 Madrid
Spain
Tel: +34 91 597 7224/7141
Fax: + 34 91 597 8596
ciaim@fomento.es
http://www.ciaim.es

Sweden
Swedish Accident Investigation Authority
P.O. Box 6014
Sveavägen 151
SE-102 31 Stockholm
Sweden
Tel: +46 8 508 862 00
Fax: +46 8 508 862 90
info@havkom.se
http://www.havkom.se
Swedish Transport Agency, Maritime Department
Box 653
SE-601 15 Norrköping
Sweden
Tel: +46 771 503 503
Fax: +46 11 23 99 34
sjofart@transportstyrelsen.se
http://www.transportstyrelsen.se/en