State of play on two years of CISE transition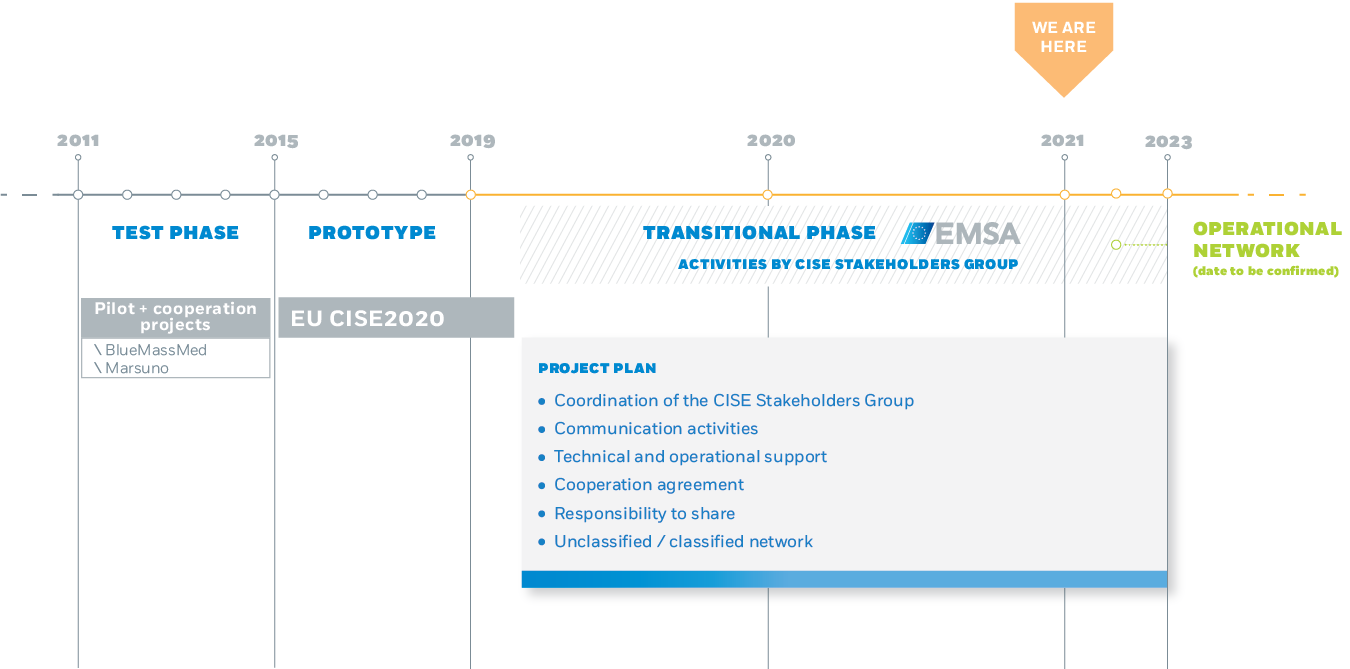 On 16 April, the Transitional Phase of the Common Information Sharing Environment (CISE) marks two years since it was launched. After the discussions in the Member States Experts Sub-Group on the Integration of Maritime Security and Surveillance (MSeG) meetings (see the 19th, 20th and 21st MSeG meetings) where the CISE transitional phase was agreed and the activities were defined by the representatives of EU Member States, a grant agreement was signed in 2019 between the European Maritime Safety Agency (EMSA) and the European Commission Directorate-General for Maritime Affairs and Fisheries (DG MARE) for the implementation of the transitional phase.
A key to the CISE success is close cooperation between various Member States' authorities, Commission services and European Agencies, in the framework of the CISE Stakeholder Group (CSG) and the thematic working groups (WG). Since the beginning of the transitional phase 6 CSG meetings took place and multiple WG meetings: the Responsibility to Share WG, the Cooperation Agreement WG and the Configuration Board. Apart from this, two Node Administrators trainings and two workshops on Best Practices and Pre-operational Services were organized, giving the participants an opportunity to form a network through which practical experience can be shared.
During the first two years the CISE project has evolved significantly, establishing a solid foundation for its future transition to day-to-day operations. Among the main developments so far is the finalisation of the Cooperation Agreement which constitutes a formal basis for information sharing between all the participants to CISE. In addition, three successful connectivity and operability test campaigns were organised with involvement of node owing countries, also allowing to test additional services. It is worth noting that during the entire period EMSA together with the Joint Research Centre (JRC) have provided service support to the Member States on a continues basis. Moreover, the new improved CISE node v2 was developed and will be soon available and the Responsibility to Share audit methodology study has been launched.
There are still many promising developments ahead before CISE will be fully operational. Building on the accomplishments of the first period of the transitional phase a new grant agreement was signed on 26 November 2020 extending the list of ambitious objectives. The extended scope of the transitional phase will allow for the creation of up to 30 nodes in total, opening up prospects for a significant growth of the CISE network. What is more, new functionalities will be designed based on an initial set of operational scenarios, including surveillance intelligence services and classified information sharing.
The duration of the CISE transitional phase is expected to conclude by December 2023. However, the actual start of maritime surveillance information exchange within CISE is already possible, as soon as the first Member States/EU Agencies with a node have signed the Cooperation Agreement.