Preliminary Market Consultation - Questionnaire on oil spill volume estimation based on satellite images from Sentinel-2
General objective
The objective of this preliminary market consultation is to enable EMSA to gather more in-depth knowledge of the market structure, proven technical solutions and players related to the provision of a service which includes oil spill volume estimations based on optical images from Sentinel-2 and detection of the source, under the conditions defined in the guiding principles established in this document. For that purpose, EMSA invites interested Earth Observation (EO) economic operators to respond to the questionnaire in the Annex.
Subsequently, and dependent on the results of this preliminary market consultation market consultation, the Agency may decide to procure a service that provides satellite-based oil spill volume estimations, particularly in case of maritime emergency or large accidental spill at sea.
The oil spill volume estimation service, including detection of the source of the spill, will complement the existing CleanSeaNet (CSN) service when there is an emergency related to an oil spill. Further detailed information on the CSN services provided by EMSA can be found at https://emsa.europa.eu/csn-menu.html
Guiding Principles
The following table lists and describes the guiding principles, including a use case scenario, which provide the framing for the questionnaire.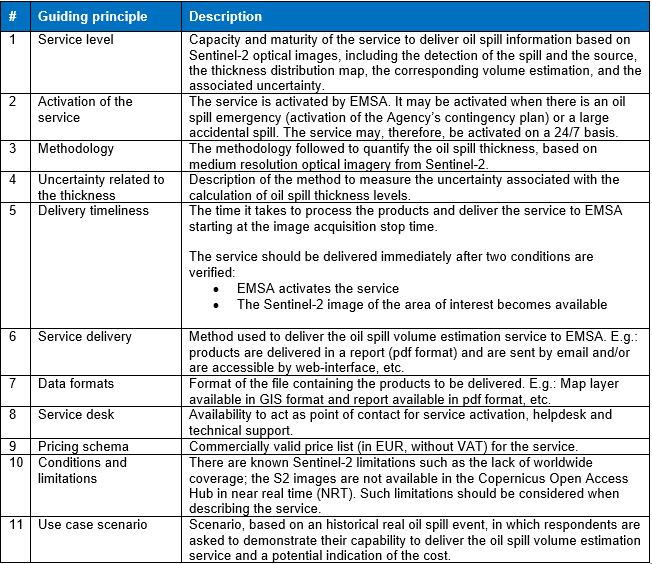 Instructions
Please fill in the questionnaire and submit the response by clicking in the submit button.
For any further inquiries, please send an e-mail to the address until the 09/12/2022 16:00 (UTC) the latest.
EMSA will reply by e-mail to any inquiries latest by 12/12/2022 16:00 (UTC).
Deadline: response to the preliminary market consultation shall be submitted to EMSA before 16:00 (UTC) on the 16/12/2022.
Disclaimer
This preliminary market consultation is an informational enquiry only, with the view of informing EMSA and potentially planning a future procurement procedure. It does not commit EMSA to procure, award a contract or establish a short list based on the results of the consultation. Responding to this preliminary market consultation is entirely voluntary and will in no way affect the evaluation of any tender submitted in response to a future procurement procedure