Cooperation between the Netherlands and Germany, prompted by a CleanSeaNet service
Requesting Authority: Netherlands Coastguard.
Country: Netherlands and Germany border.
Date: 2016.
A CleanSeaNet alert report was sent regarding a possible detected spill, which was partly in the Netherlands alert areas and partly in the German alert area. The Netherlands – which routinely organises surveillance flights timed to coincide with expected CleanSeaNet services – sent an aerial surveillance asset, and the vessel was identified. Pictures were taken showing discharge of MARPOL Annex II cargo residues via a hose which was discharging above the waterline.
The ship's master confirmed that a tank washing operation of palm oil was taking place, but asserted that it was in line with MARPOL Annex 2 regulations. The authorities in the Netherlands contacted the relevant German authorities and sent them the information which had been collected. The German authorities then conducted investigations on board the vessel once it berthed in Hamburg port. As the discharge pipe was above the waterline, the German prosecutor found that the discharge was not in compliance with MARPOL and a fine was issued.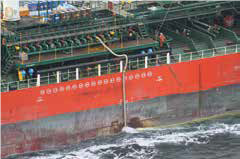 The image above shows the CleanSeaNet report which triggered the investigation of the discharge by the vessel. Aerial photos from surveillance aircraft show that the discharge was being made above the waterline.