Collision between the Strauss and the Francia
Requesting Authority: French Authorities.
Country: Italy.
Date: February 2010.
On the morning of 19 February 2010, a collision occurred between the fully cellular container ship CMA CGM Strauss and the tug Francia around 1.5km off the Voltri terminal entrance at the port of Genoa, north-western Italy. This caused a hole in the fuel tank of the container ship and a spillage of an estimated 184 tonnes of fuel oil. Following a request from the French authorities, CleanSeaNet initially provided six satellite images to monitor the movement of the oil slick between Genoa and Toulon, and further images were provided through the activation an emergency acquisition procedure with the European Space Agency (ESA). The emergency situation lasted from 19 February to 2 March 2010. The image below, showing the full extent of the spill, was acquired within 30 hours of the emergency activation.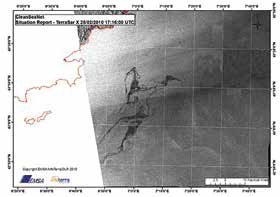 Widespread oil spill following the collision of the two vessels