MED e-tag for manufacturers

The MED e-tag makes identifying certified marine equipment easier than ever.
With the MED e-tag, your products are digitally readable and visible. So, it's simpler and quicker to identify them – and your business.
The MED e-tag system facilitates the electronic data flow between manufacturers, notified bodies, and authorities.
It gives users immediate, on-site access to product information like: certificate, manufacturer name, Declaration of Conformity information, etc.
As a manufacturer using the MED e-tag system, you can:
Make your product digitally readable and visible, meaning that product details can be more easily identified
Make your business visible and accessible within the MED Portal
Help to protect your product against counterfeits
Facilitate access to the relevant electronic documentation, including the Declaration of Conformity, certificates, and product manuals
Apply the MED e-tag on your products
Getting started on the MED e-tag system couldn't be easier! There are just three simple steps:
1. Register your company in the MED Portal:
All manufacturer registration within the MED Portal is based on the information provided by the Notified Body which has issued the relevant MED certificates.
The Notified Body which has issued your MED certificates will have used an "admin e-mail" as contact details of your company. Use this email address to create a free account on the MED Portal.
If you don't have the "admin e-mail" details to hand, contact the Notified Body that issued your certificates to update your details.
Once registered in the MED Portal, create your company profile using the "Manage Organisation" feature.
2. Provide an e-tag code for your product.
Go to the Products tab in the MED Portal, and find your product using the embedded filtering options. Then go to the Other Details tag, and choose Identifiers, below:
Using the Edit Other Details: ETAG field, add your product's identifier. If you don't know how to create an identifier, click here for a quick guide.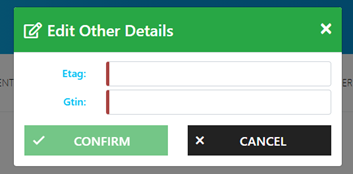 CONFIRM to successfully save changes.
Update your MED Mobile App to see that change on your mobile.
3. Place MED e- tag on your products.
Your e-tag, once created, will be a text sequence of characters. Now you can transform it into a data matrix via the online data matrix generator of your choice. Check your data matrix through the MED mobile app, and you should see the product information appear on your phone. Then all you have to do is add the data matrix to your products.
What is my e-tag and how do I get it?
The legal foundation for the e-tag is based on Article 11 of Directive 2014/90/EU. The European Commission issued Implementing Regulation 2018/608 on technical criteria for e-tags for marine equipment and Delegated Regulation 2018/414 regarding the identification of marine equipment which can benefit from e-tags.
Following these legislative acts, EMSA requested industry to define relevant formats of identifiers which could encode the identity of the products registered in the MED Database, and which could be used as a link between scanned e-tags and the database of MED approved products.
In that context, two independent types of Identifiers have been defined:
Which identifier should I choose for my product?
Manufacturers can choose between two types of identifiers (schemas) to create an e-tag for their products. Both solutions are compatible with the MED Portal; manufacturers are invited to choose the identifier that suits them best.
Note that application identifier 723 was published by industry leader GS1 and does not incur a cost for product with a registered Global Trade Item Number (GTIN). Otherwise, the identifier requires pre-registration for the product to be identified.
If you have any more questions or need more information, contact:
Find out more about our work